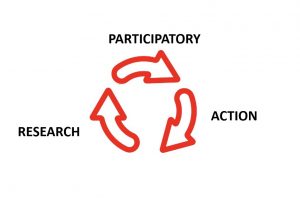 Applying Participatory Action Research (PAR):
2019 Summer Workshop Series
At Building from Below, we believe that learning is best when participants are involved in the process. The two-week Participatory Action Research Summer Workshop Series is designed to introduce the theory, methods, and ethics of participatory action research (PAR) to community practitioners, facilitators, graduate students, educators, and researchers. Through seminars, roundtables, and hands-on workshops with experienced researchers, participants gain the necessary skills and knowledge to integrate a PAR approach into their scholarship, research, and/or organizing.
The Workshop Series is held at The Seedbed in Mebane, NC. Part One begins on Monday, July 8th at 8AM and ends at 4PM on Friday, July 12th. Part Two is a weekend series with site visits. Part Three begins on Monday, July 15th at 8AM and ends on Friday, July 19th at 4PM.
The tuition for any single series is $1200, and for the whole series is $2500. Tuition includes breakfast and lunch. Housing is available at reduced rates. Limited scholarships are available; see application.
THE WORKSHOP SERIES COVERS:
The history, theory, methods, & ethics of PAR
Building partnerships with community & community based organizations
Creating conditions for creating meaningful collaboration within research collectives
Designing participatory research with IRBs & community review boards
Participatory approaches to methods and analysis: mapping, community-generated surveys, interviews, focus groups
Engaging the arts and performance as research tools
In addition, participants will:
Advance current projects & develop new research ideas in a community of peers and experienced PAR researchers (both university & community based)
Join a diverse network of participatory action researchers
WHO SHOULD APPLY?
The PAR Workshop Series is designed to bring together geographically diverse participants from universities, communities, and community-based organizations. We encourage participants to apply with a research project to workshop. We also encourage research teams to apply together; however, each member of the team must fill out a separate application. Individual graduate students, faculty, and community workers are also welcome.
HOW IS THE SERIES STRUCTURED?
Part One (7/8-7/12) is the seminar portion of the series. It covers: the values, principles, and theories of Participatory Action Research; designing research frameworks and identifying the right questions; building partnerships; using creative tools and experiential learning to make research engaging; and exploring tools to process and share participatory action research 'data'.
Part Two (7/13 & 7/14) is a weekend series with site visits to PAR projects throughout the Triangle and Triad region of North Carolina (areas surrounding Duke University, North Carolina State University, and University of North Carolina at Chapel Hill).
Part Three (7/15-7/19) provides participants with individually tailored research activities and workshops to advance their own projects and develop new ideas with assistance from instructors and other workshop participants.
Deadline to apply has passed!
Please send inquiries to info@buildingfrombelow.org.